Why should you choose Swarovski crystals?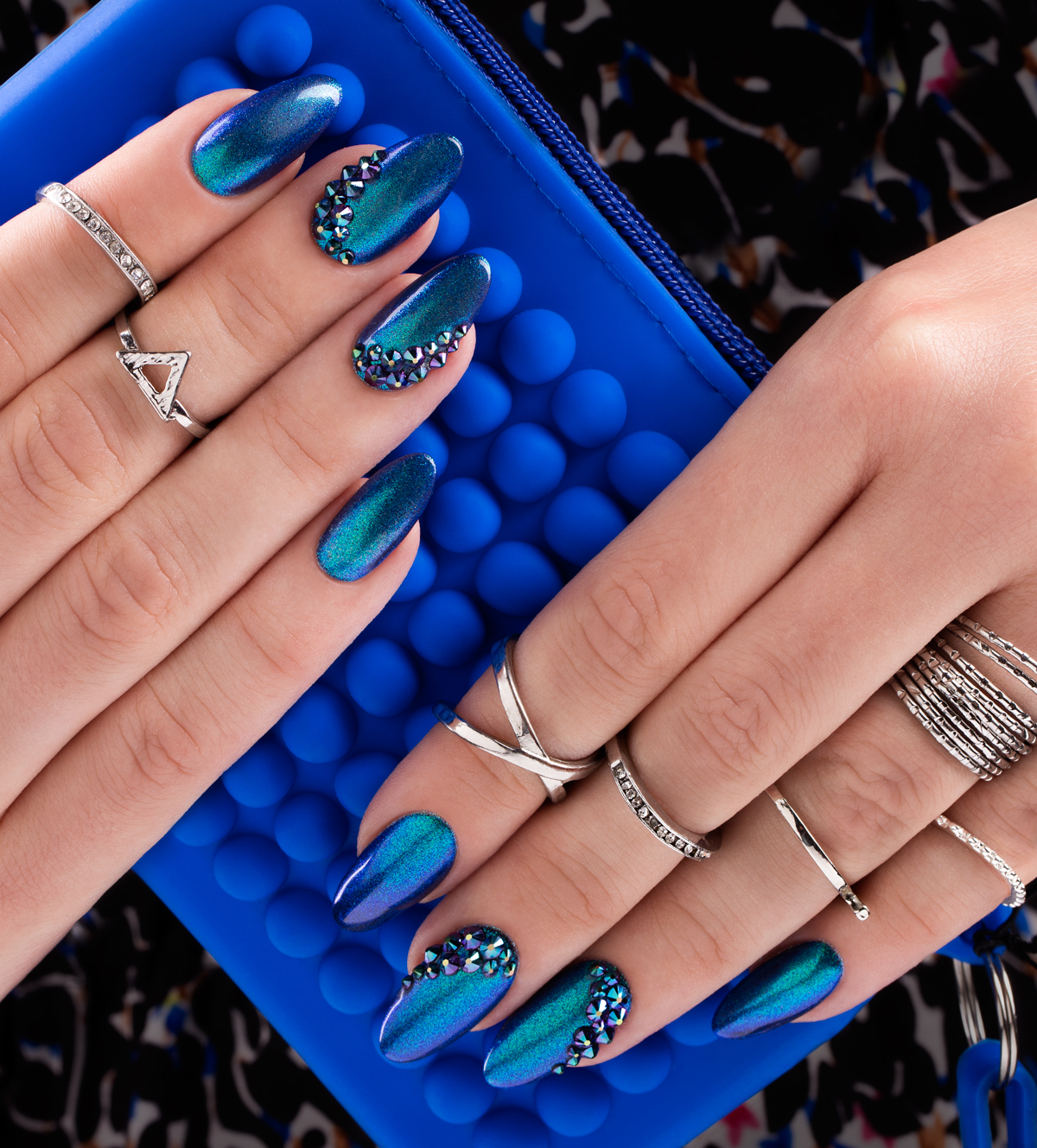 For over 120 years the unique shine of Swarovski crystals makes the hearts of women flutter. They are the purest form of crystals created by man. Their quality is appreciated by jewellers, artist, craftsmen and...beauticians.
Swarovski Elements are very popular as an elegant jewellery ornament that will give your manicure more striking and elegant finish. A huge variety of sizes and colours gives an endless possibility of creating nail designs.
The new definition of shine
The secret behind Swarovski elements lies in an exceptional cut. The nail-art crystals are cut in a pattern called Xilion Rose. Swarovski took a patent and copyrighted Xilion Rose cut, so you won't find it in any other company.
The unique pattern has twice as many facets than rhinestones with a classic cut called Chaton Rose, used by other companies.
Moreover, the shape of the facets is irregular – there are two shapes placed alternately – which amplifies it's light bending and reflecting properties. That's why Swarovski crystals are so spectacularly sparkly and outshine the competition. The difference can be easily seen with a naked eye.
It isn't just the magnificent glow of Swarovski elements that makes them so popular among beauticians. The important part of the design is it's flat, textured base, that makes them stick longer to the nail than other rhinestones with a smooth base. They are the only crystals that will keep their shine even after being covered with gel or wiped with cleaner, which can happen with regular crystals.
There are over 72 sizes of Swarovski Elements, but the most popular in the world of nail-art are sized SS003 (1,4 mm) and SS10 (2,8 mm)
The colour palette should satisfy most demanding tastes – from classic shades of white (like Crystal, Silk), vibrant colours (like Fuchsia, Sapphire, Amethyst) to magnificent iridescent crystals marked with AB - Aurora Borealis (like Jonquil AB, Aquamarine AB). If you are looking for a spectacular shade we recommend Scarabaeus Green – out current hit!
The proper way to apply crystals
Crystals should be applied on a nail using a special, super strong Nail Glue. We apply it in tiny spots straight on the nail plate.
It is recommended to buff the surface a little bit to make the crystal stick for a longer time.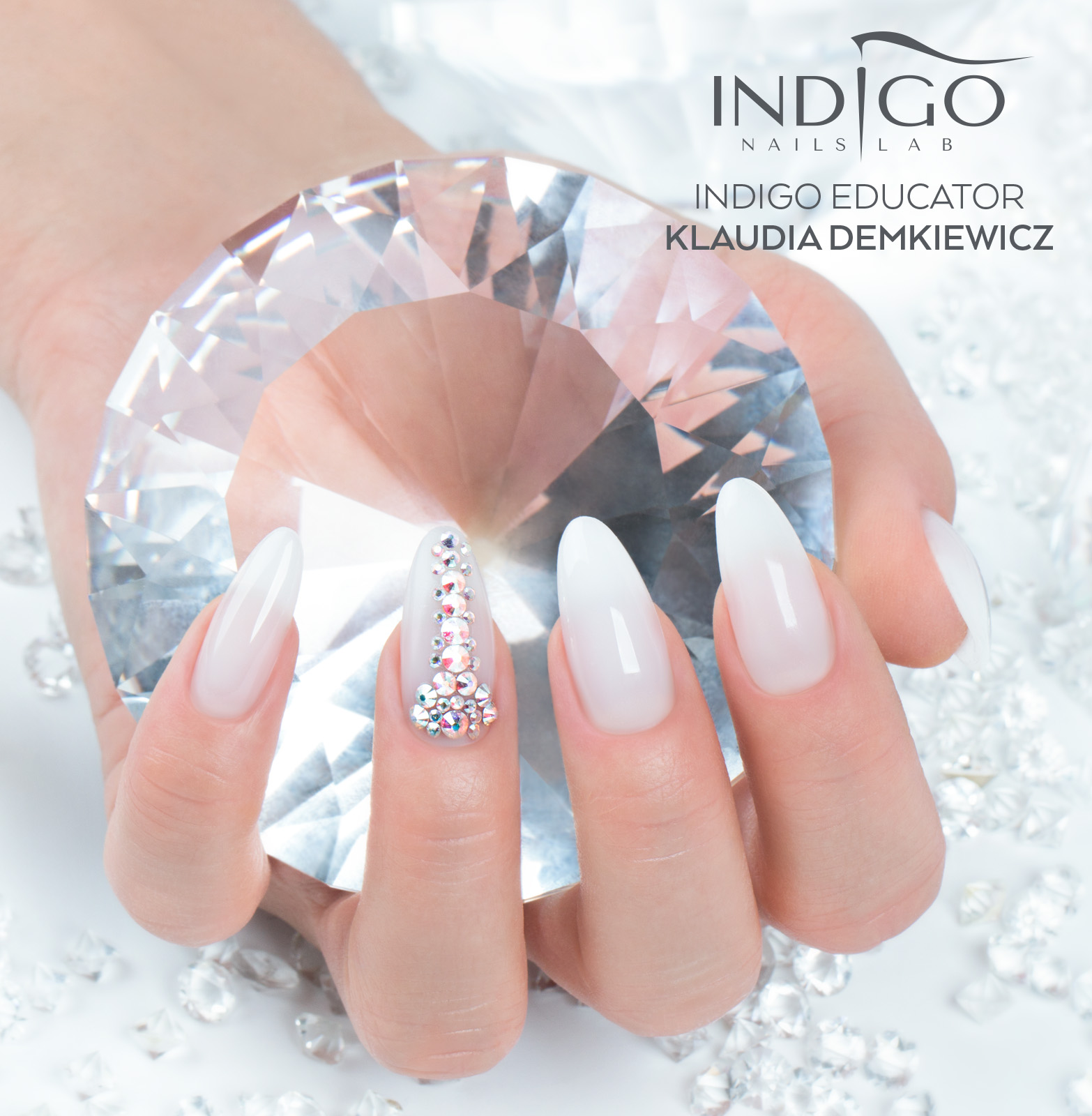 Next, we glue the crystal of our choice in place (the Indigo Dotter Tool will be very useful for this).
If the glue droplet is too big for our crystal, the remaining glue can be wiped off with a cotton pad soaked in acetone-free Nail Polish Remover.
Designs can be finished off with a top coat being careful not to cover the crystals with any product.
If you want to remove a crystal, Just pry it with a pair of nail nippers. Unfortunately, due to a fact that glue will stick permanently to it's flat, textured base, the crystal can't be used again.
Crystals are a girl's best friends!