Summer nails 2018 by Indigo - We Are The Colors!
Every woman starts preparing for their holidays several months in advance. We were also very busy preparing for summer 2018! We wanted it to be really special and we did it with the ultra-pigmented Indigo Gel Polishes collection called We Are The Colours by Natalia Siwiec.
Well cared nails are an unquestionable feminine decoration and complement everyday styles. A manicure can say a lot about the character of a person, her lifestyle and even about the current state of mind. Strong, expressive colours are a response to the demand of modern, active and confident women who are extremely successful, emanate positive energy and like to give it to others. Vivid summer nail colours add courage and can also show a readiness to act.
Summer nails colours 2018 – our choice!
If you want to feel like a real star this summer, you should choose a deep, saturated, energetic Bombastic. This expressive violet is quite a bold proposition, but do not forget that Ultra Violet was selected as the colour of the 2018 by Pantone. When you want to feel more stylish and original, choose Eucalyptus and its beautiful, emerald colour. Hedonista is a must have for every woman who follow current trends. Its neon yellow-orange shade is a real hit of this season. For spontaneous women, we suggest Freshmaker, with a very fashionable, turquoise-mint colour, while the extremely pink, sexy Pop Star is for those, who want to emphasize feminine sex appeal.
Check other our summer nails 2018 propositions!
Do you want to see more? Check out our other suggestions for this season and choose something for yourself!
SWEET, SWEET CANDY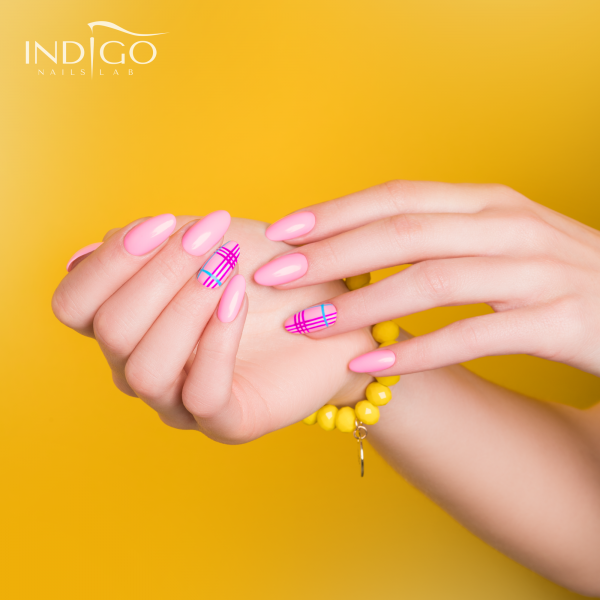 During the summer we also love delicate, pastel colours that are extremely girlish and look like powdered candies. But do you know how the perfect sweet pink should look like? The answer to this question is Maybe Baby! Feminine and subtle, tempting and with character at the same time. Looks great on its own but in combination with delicate greys, expressive purples or other pastel shades, it will create the perfect style!
In this case, Bambi Girl would be the perfect choice. It is made by combining a blue touch with a light grey shade. This soft lavender colour is designed for women who like a pretty girlish, subtle manicure.
Many of you, not only the lovers of pastels, will certainly fall in love with Be My Habibi. It was created from a combination of violet and candy pink and this is how we made one of the most desirable Indigo colours. It is really hard to pass by such a charming lilac pink!
Among the ultra-saturated shades there is also a pretty calm accent. Summer styles with Superduper will always be delicate and subtle. This milk, slightly peach colour will perfectly match any skin colour, so you can wear it at any time of the year! However, remember to try the Superduper in the summer, because it will beautifully conquer the colour of your tan.
POWER OF NEON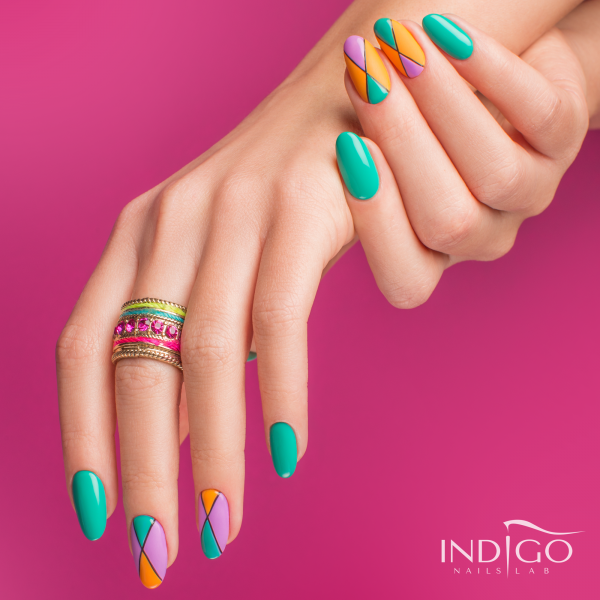 How about neon madness? We Are The Colours! Our absolute favourite for summer 2018 is Figo Fago! We haven't seen yet such sweet purple. It is unbelievably intense and hard to resist. Perfect for confident women who are not afraid of fashion experiments, because Figo Fago will be a fantastic complement to every summer outfit.
There is also an amazing, very expressive Summerlicious that you just need to know – it's an orange shade with a hint of pink. This juicy, pinky peach is so sweet that you want to eat it! Anyway, it incredibly emphasizes a holiday tan. Our summer manicure proposal with Summerlicious is a delicate ombre in combination with lighter colours which you can also mix it with other, equally juicy shades.
Are you looking for something original for this summer season 2018? Impressive Baobab is a saturated, emerald green, perfect for meeting with friends or long-awaited holidays. It is not too dark but also not too light, we are not afraid to say that it is just perfect. It will certainly give you a lot of positive energy for long, summer days.
BLUE LAGOON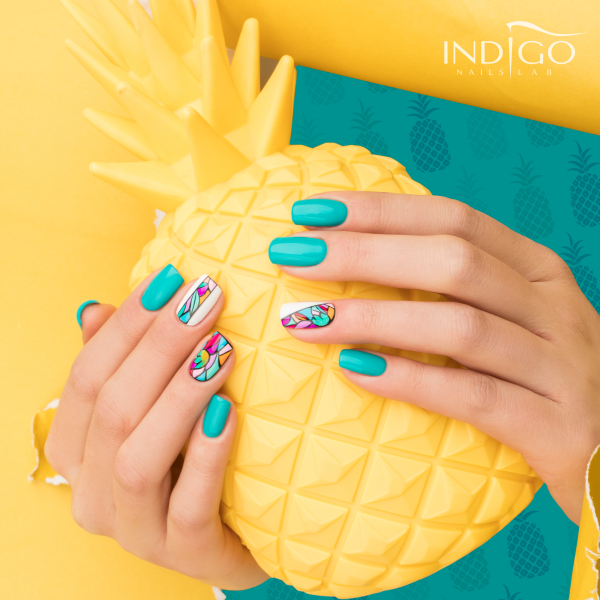 At the end, we have two extremely charming and heavenly beautiful proposals for you! Do you like to play with colours? Are you an artistic soul? Are not afraid of challenges? In that case, just hop on deck and meet El Captain! Ahoy adventure! How refreshing! Dreamlike turquoise and deep shade of the blue lagoon… It will not only work in summer 2018 with a nautical style but also in the winter when the world is covered with snow and frost.
Do you need a moment of rest after all this madness? If you do, you also need Lazy Daisy. This is a pretty close cousin of the well-known Call Me a Unicorn and Serenity. Lazy Daisy is a completely new combination of blue and violet, both in perfect proportions. It will charm you in the blink of an eye and will not let you forget about it…
In the case of summer 2018 nail styles, become a real hedonist and do what you always dreamed about! Give yourself whatever you want! Let your imagination run wild and crazy! You will not regret it – we guarantee that. ;)