Glitter Collection – glitter shine in the carnival version!
Do you think that glitter incarnations of colours can't surprise you any longer? This means that you haven't got to know the latest Glitter Collection – a palette of colours developed according to a completely new formula!
Discover a combination of colours that leave far behind everything that has so far been called glitter nail polish. Once you try them you'll never reach for anything else!
All that is gold does glitter!
The Glitter collection is composed of as many as 3 luxurious gold editions. One look is enough to keep your eyes on them and you'll see that gold has more than one name! Discover No Money, No Honey in the colour of sparkling champagne Midas – the amber edition of gold bathed in particles and Glitteriusz – the most noble embodiment of this precious metal.

2. The cold that fires up and....
A shimmering incarnation of winter colours, which will surely kindle your senses. Among them the dignified and full of class Markiza De Pompadour – a penetrating shade of blue, generously sprinkled with glitter!
If you prefer saturated deep cobalt rather than blue, you'll certainly enjoy the Na Bogato polish shining like a diamond. And whenever you long for Christmas, you can remember that special atmosphere with the sparkling green of Everyday is Christmas!

3. ... the gloss that captivates!
Timeless colours, which have been synonymous with luxury for decades, richly coated with glitter, like all nail polishes from the Glitter collection. Try Karaoke Queen, the classic and subdued red with a hint of claret, or choose the electrifying power of glamorous magenta in the special edition of Be More Vegas!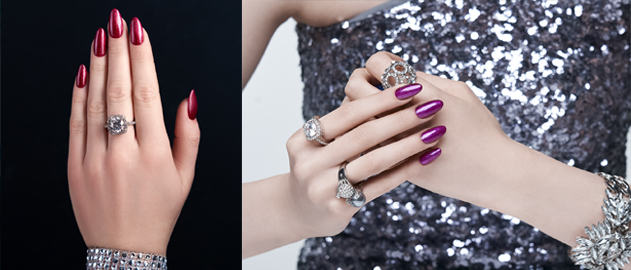 And? What will choose first to dazzle?