Gel Polish Set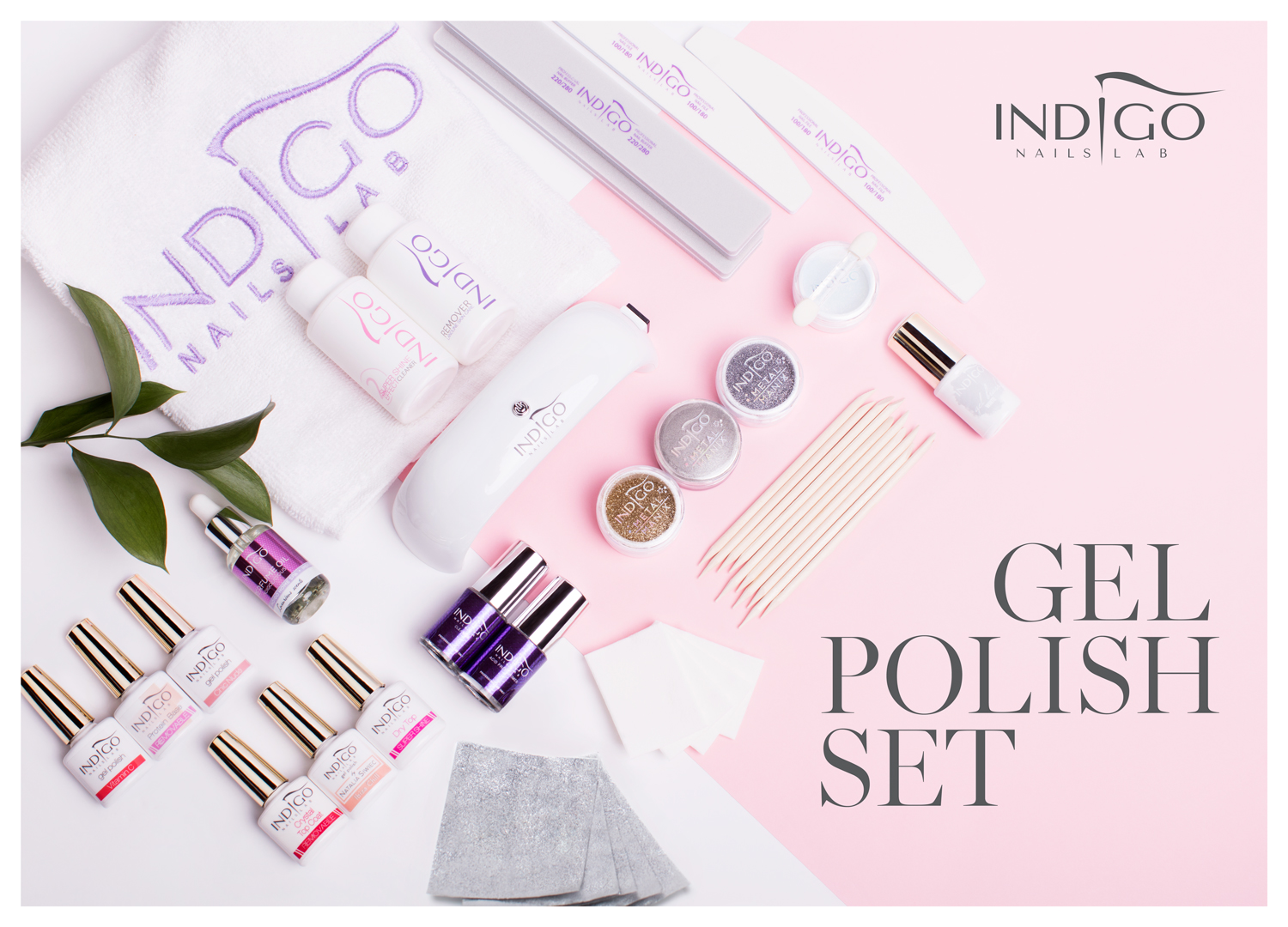 Here is the brand new product, that many have waited for - Gel Polish Set
It is a very comprehensive set in which you'll find everything you need to create a perfect and lasting gel polish manicure. And even more! Among its contents, you'll find such best sellers as Metal Manix ® (in 3 shades), which will help you create an amazing chrome manicure,
The set is contained in an elegant box with inner compartments. This set is a great option for stylists who would like to try out Indigo products...and fell in love at first sight!
9W LED Lamp. A Compact, handy lamp which is perfect both for manicure and pedicure. It has 6 DUAL-LED diodes and two setting - 30 and 60 seconds. Set includes a power source and 2-year warranty, Comes in white, available only in the Gel Polish Set.
Gel Polishes 5ml in shades: Chick Nude, Ibiza Chill and Vitamin C. High quality, professional, gel polishes which create a long-lasting manicure.
Protein Base® 5ml - a very durable gel polish base. Thanks to proteins added to the composition it rebuilds and strengthens the nail plate. It is so hard, you can add length to the nail with it up to 3mm.
Gel Brush 5ml in colour White. A tough gel in a brush. It is a perfect base colour for lighter shades and Metal Manix effect.
Crystal Top Coat Removable 5ml - this top coat adds a glossy finish. It is elastic and enhances the depth of colour. It can be taken off with Remover.
Dry Top Supershine5ml- A top coat that doesn't create a dispersive layer (it doesn't need to be wiped with a Cleaner). It shines beautifully, it is very hard and resistant to scratches. It is the perfect product to use with Metal Manix ® Multi Chrome. It can't be taken off with a Remover, it needs to be filed down.
Acid-free Primer 5ml. - a product that enhances the adherence of Gel Polish or Gel manicure. It should be applied on a prepared nail plate before putting on base.
Metal Manix ® Multi Chrome +applicator. Powder, which creates a mirror surface on the nail. The final effect depends on a base colour. It should be applied on a product without a dispersive layer (Dry Top).
Metal Manix ® Silver and Light Gold -these powders will create an amazing chrome effect in silver or light gold. Should be applied on a product with a dispersive layer.
Mermaid Effect ® - an opalescent dust, which gives nails a light golden glow.
Cleaner 5ml - a product used to remove grease and prepare the plate before a manicure.
Cuticle oil in a pipette 8ml - in Indigolicious scent. Thanks to compositions made of natural oils it moisturises and nourishes the cuticles.
Cleaner Super Shine50 ml - product removes the dispersive layer at the end of a manicure. It contains oils, which will moisturise cuticles and add a shine to the design.
Dust-free Swabs - 250 pcs. Can be used for removing grease from the nail plate or removing the dispersive layer from a polish.
Lanoline Remover50 ml
2x Mylar Half Moon file 100/180
Indigo Towel - white with a lilac logo 50x30 cm.
Foil for removing gel polish manicure - 50 pcs.
Orange Sticks -10 pcs.