Feel the hydration boost with Indigo Home Spa hand creams
Do you often wash your hands and use disinfectants? If so, you are certainly at risk of drying your skin. Taking care of proper hand hygiene is particularly important, this problem affects more and more people. How to heal irritated skin? First of all, take care to properly hydrate your skin.

Effective defence against infection
Disinfectants that effectively kill microbes should contain at least 60% of alcohol - this concentration is recommended for this type of WHO products. Remember that these products are intended for disinfection and not for cleaning. They must not be mixed with water, because they lose their properties. After rubbing a small amount of the product, the alcohol evaporates, leaving the skin free from germs. Unfortunately - frequent use of disinfectants causes skin dryness. It becomes red and the skin cracks. This is not only painful but also dangerous! An open wound is an invitation for bacteria, viruses and fungi. Therefore, when you use disinfectant liquids or soap several times a day - remember to moisturize your hands properly.
Total skincare
The Indigo Home Spa hand cream range is not only a way for beautifully smelling hands. It's also a hydration boost that dry skin needs. The moisturising formula is based on a combination of glycerin, almond oil, shea butter, cocoa butter and vitamin E. Its light consistency lets the hand cream to be quickly absorbed. Skincare with cosmetics from the Indigo Home Spa range will leave your hands moisturised and looking healthy. Indigo hand creams have been dermatologically tested, and a wide selection of tempting, feminine fragrances ensures that everyone will surely find something for themselves.
Remember to take care of your man's skin too - choose Omnia hand cream. It's distinguished by a unique fragrance, combining notes of cedar and musk, which makes it perfectly fit in with men's tastes, while not dominating the fragrance of your favourite perfume. Omnia hand cream is a guarantee of moisturised skin in a male version.
Remember - proper skincare hydration level is a must. Especially when it is exposed to drying, therefore use hand cream regularly. Proper skincare is just as important as washing your hands properly. Below you will find a guide on how to care for your hands properly.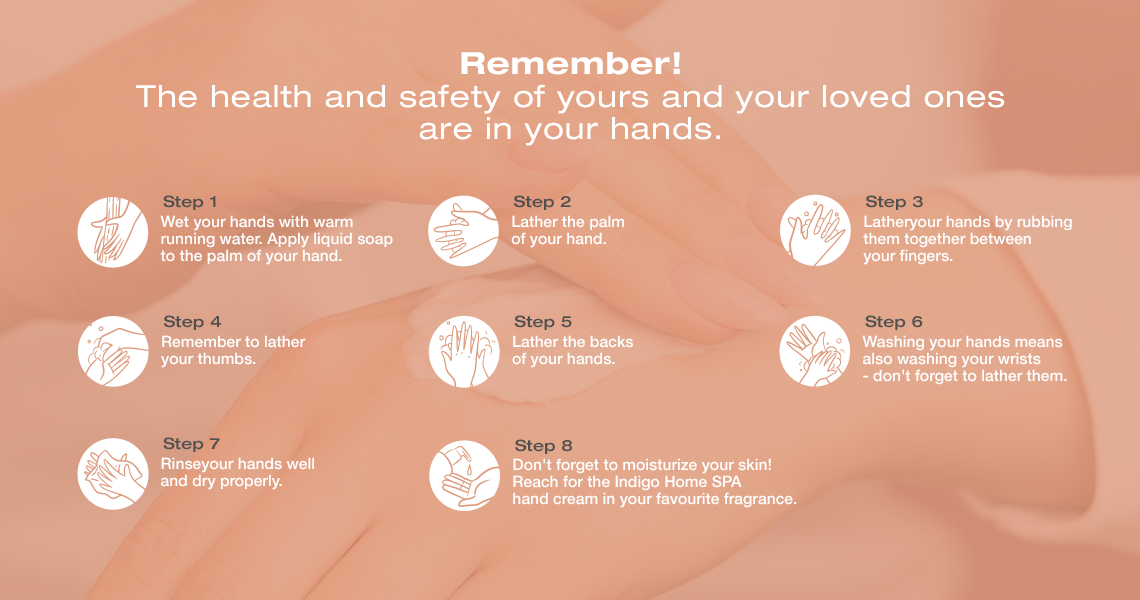 Don't forget to moisturize your skin! Reach for the Indigo Home SPA hand cream in your favourite fragrance.