Bling nail decorations - use them to create dazzling nail designs!
Can't wait for spring to come? We have created nail decorations in five girly colours to make you forget about winter. So reach for glittering Blings and add effortless shine to your nails! Check what nail art will you create with these newbies. Thanks to our decorations, we will show you that even the most classic manicure will stand out from the crowd and shine with a riot of colours!
Shimmering nails? Bet on Blings!
Multicoloured, shiny cut foil is a patent for quick and original nails. Don't be shy and use Bling nail decorations if you want a subtle finish but don't want to compromise on the colour! Which of our particles will you try out first? What's waiting for you?
● Bling Bling Master in a cool, elegant blue shade.
● Bling Express Bling in a candy pink colour.
● Bling Her Majesty resembling green and silver royal jewellery.
● Bling Luxesita perfectly matches the colour of 2022, Veri Peri.
● Bling Yes! Bling in a whitened neon that is associated with midsummer.
Use each Bling solo or combine it with other colours within the offer. Try minimalist decorations, add shine to decorations and show that the world of Nail Art has no secrets for you. No matter which version you choose - Bling nail decorations are an ally for both subtle and vivid mani!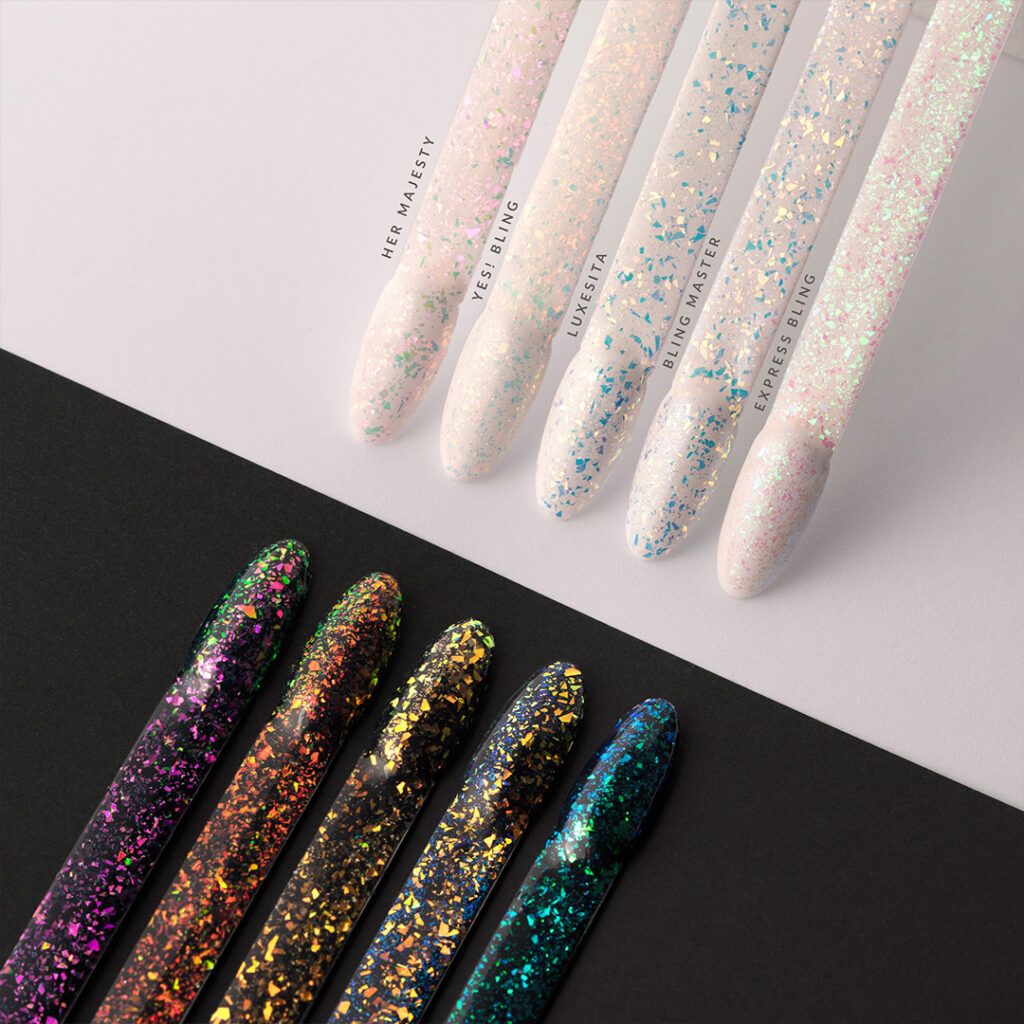 Bling nail decorations - love their versatility
Princess nails on your mind? Or do you think about jewellery decorations? Are you looking for particles perfect for a fantasy construction french? You got it! - our nail decorations meet the requirements.
You decide on the Bling application. If you work with gels daily, embed the particles in the uncured product. For a change, apply them on a sticky layer and cover them with a top coat that is perfect for securing decorations, like ... Wet Look!
You love multicoloured sparkle on your nails? Enrich your collection with Blings and try other Indigo nail art products. There's an article on Princess particles on our blog waiting for you - check why you should reach for them when glitter nails are on your mind!