Autumn première – New York Collection – interview with Natalia Siwiec
Yes! It's finally here! The new and unique collection signed by Natalia Siwiec. A palette of unprecedented colors inspired by the pulse and effervescence of one of the most famous metropolises in the world – New York!
This is yet another occasion when we've decided to collaborate with Natalia. This hard-working woman is a volcano of inspiration. This is an unprecedented situation on the market – we dare a brand to create as many as 6 collections with one ambassador. Meanwhile, this is what's happening before your eyes – the New York Collection by Natalia Siwiec has just been launched. And we are strangely confident that it'll win your hearts.
In addition to co-creating the colors from the collection, Natalia also took part in a photo shoot in New York – a city of inspiration for the entire New York Collection. The collection consists of 12 colours, and each one refers to a specific place in this magical city. During the première, we sat down and talked for a moment with the ambassador herself.
Natalia Siwiec decided to answer a few questions, tell us why she works with Indigo and what it's like to be an ambassador of the brand, and which colours she loves the most. You simply have to read it!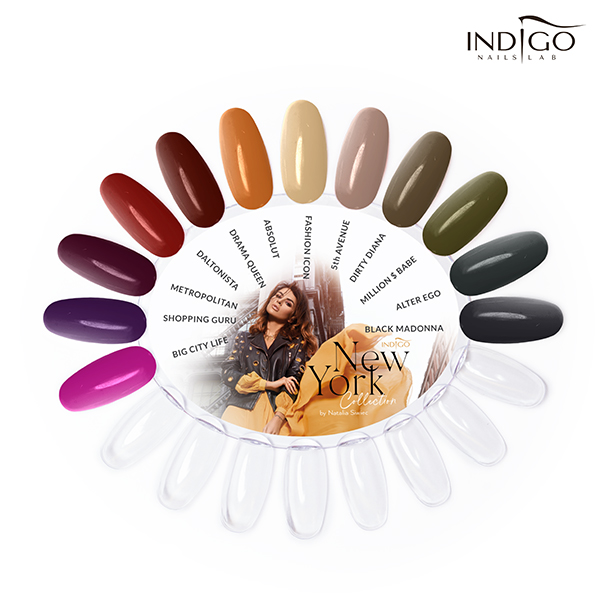 INDIGO: Natalia, Indigo again! Influencers and trend-setters "move from one flower onto another" every season and what about you? Once again with the same brand. How is it possible? NATALIA SIWIEC: When something works very well, why change it? I love working with Indigo because I really have a lot of freedom and a huge influence on what we create. That's why I feel as if each subsequent collection signed with my name was a bit like "my child", of which I'm very proud. I: What distinguishes the latest collection? N.S.: Everything! (laughing) We Are The Colors was crazy, colorful, saturated with a multitude of shades, and New York is like this peaceful force, a source of elegance and self-confidence. I definitely wanted these colors to allow women to express an awareness of their own value. You know… women's power! At the same time, I wanted them to have an autumn climate. I: Where were the photos of the collection taken and what can you tell us about the set? N.S.: The concept, worked out by Darek, Magda and me, was to have the pictures taken in one of the most famous cities in the world, which is extremely modern and diverse. We knew immediately that it would be New York, because it was a mine of inspiration. You either stand out or disappear there. And you need to know what you want and where you want to go, because people will "eat you". We worked dozen or so hours a day during the photo shoot; it wasn't easy, because we were taking pictures day and night, in all corners of New York, like Brooklyn Bridge, Manhattan, Time Square, Soho. It was a lot of work, but nice company and results reward everything. I: Do you know? N.S.: (laughing) Well… More and more. I certainly know how to add this self-confidence. I have to have thicker skin because of my job, but I wouldn't say I'm already "resistant". I'm learning it and being a mother helps me a lot. And I believe in the power of small things. When I'm not in the best mood, I try to improve it by, for example, wearing a colorful sweater. I think that how we look has a great power. When others see us as strong people, it'll be easier for us to believe that.in I: Do you have a favorite color from the new collection? N.S.: I hate such questions (laughing). It's like if you asked me which child I like the most! I loved Hedonista from the summer collection, hence my weakness for the autumn version of this color… I: Absolut? N.S.: Yeeees!!! (laughing) I also love violets! They will be extremely popular this season! I: Big City Life or Shopping Guru? N.S.: Both!!! Perhaps I should think about an ombre manicure with them, because there's no way I can choose one! Daltonista is wonderful as well. I also like 5th Avenue and Dirty Diana from the more subdued colours. Or wait… No… Black Madonna is also beautiful… And Drama Queen… I love them all, seriously! I: And what do you think is the greatest asset of the collection? N.S.: Indigo always introduces colors that you won't find anywhere else. Strange, cool, unusual, just different. And I love that! You look at your nails and say: "Wow! I haven't seen that before!", and you know that everyone wants to stand out. I like this diversity and the choice I have. I: Why do you collaborate with Indigo? Didn't other companies tempt you? N.S.: Maybe they did, but I feel good where I'm now (laughing). I have a huge influence on what the collection looks like, I can argue if I don't like something. They are all "my colours", and we are really good friends with Darek and Magda. I'm not interested in competition. Besides, there's no competition. Indigo is the best (laughing). I: Do you already have a plan for further cooperation? N.S.: I can't say anything at this point. We want to be sparing in emotions. The other day we were laughing with Magda that we are visiting more places in the world to conquer the entire planet! For now, we want the autumn collection to be well received, with great pomp. We've worked really hard and this must be appreciated. Have you seen the photos? They're exceptional! We visited all corners of New York and this session has a Vogue-like atmosphere. I'm very proud of us! I: Will the New York Collection be a hit? N.S.: Each Indigo collection is (laughing). No other option is possible