A brand new take on Mermaid Effect ®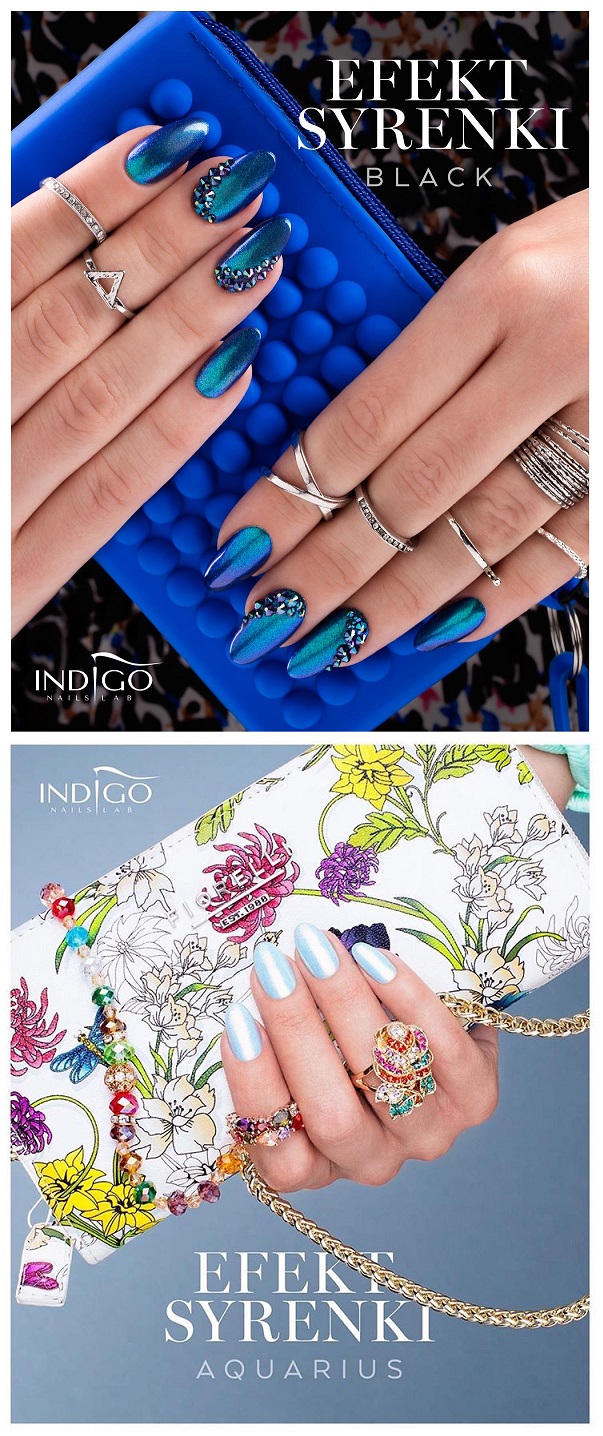 There isn't a person in the world of beauticians that haven't heard about the Mermaid Effect ®.
This unique product has taken our clients by storm and is one of our biggest hits for a few consecutive seasons. No wonder – you can create an impressive, luminous eye-catching manicure in a fast and easy way.
Mermaid effect® is a very fine, iridescent powder that should be rubbed gently into a hybrid or gel dispersive layer. The excess powder should be dusted off with a soft brush and sealed with a glossy top coat. Its final look depends on the base colour, but it is as striking on pastels as it is on darker colours.
Up until now, Indigo Mermaid Effect® came in a few shades: classic, emerald, and pastel-pink. Now there are three more fantastic colours in this collection. Get to know them and fall in love!
Black
Black Mermaid powder is a new Indigo hit that you won't find at other producers. It's a fine powder made exclusively for black nail polish (like Mr. Black Gel Polish). It looks very unassuming stored in a container, but it shines so brightly on a black base colour.
It gives an amazing effect of a multi-dimensional navy blue colour shifting in a number of different colours (purple, turquoise) depending on the angle of light. In addition, they illuminate the nail with a golden shimmer - just like a starry sky.
If you want to amplify the wow effect add some Swarovski crystals in colour Scarabaeus Green.
Tiffany
Tiffany Mermaid powder is a must have for all mint lovers out there. This gorgeous pastel colour is a summer hit for the last few years – it highlights a sun tan and complements summery outfits. Tiffany beautifully matches every hue of green, boosts up the colour and gives nails an iridescent glow. If you prefer a more subtle effect, put Tiffany Mermaid powder on a white base coat (like Mr. White Gel Polish) – you'll get a subtle sparkly manicure in a light mint colour.
Aquarius
Blue sky and the sunshine are two of Mermaids favourite things! Aquarius is the perfect idea for fans of pastel colours. Beautiful light blue brings to mind azure sea and a cloudless sky- the pure essence of summer. It makes all shades of blue "pop", giving the nails that luminous golden sheen. On a white base, it shows as a subtle and pastel shade that gives tanned skin a wonderful contrast.